Microsoft Office 365 is the newest version office built on the framework of the well-established productivity tools like Word and Excel. This new version is more robust than the older versions as it comes loaded with additional functionalities, services, and applications that can improve the workflow and productivity of an organisation regardless of its size.
Office 365 embraces latest technological developments that give organisations competitive edge over their competitors. Some of these tools are Power BI which gives insight to the management team for decision making and One Drive (Microsoft's cloud service) which gives access to information 24 hours a day and 7 days a week.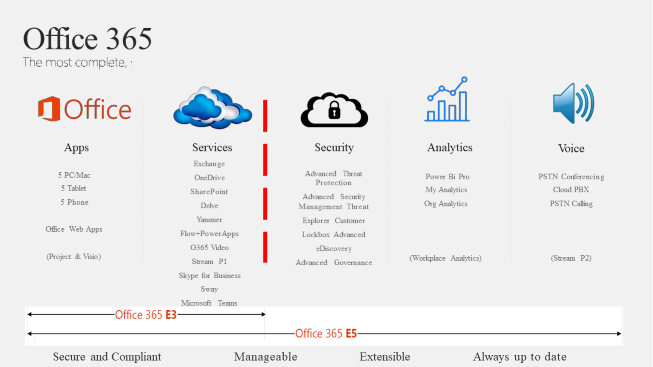 INCREASED PRODUCTIVITY WITH ADDITIONAL BENEFITS: APPLICATIONS AND SERVICES IN OFFICE 365
Microsoft Word: The most popular productivity tool is now accessible online (via any browser on any internet-enabled device) and locally (installed on a computer). Documents can be created, viewed, and edited on the go without the need of a computer. There is improved collaboration among colleagues with multiple having access to a single document. This eliminates the need to create multiple version of one single document.
Microsoft Excel: The most widely-used spreadsheet program comes with more functionalities and add-in to help make the most of your data experience. More graphs, more functions in more fields like engineering and financial services, accessible online from any smart device with a browser, better relationship with multidimensional data structures.
Microsoft PowerPoint: Take your presentations to the next level with PowerPoint in Office 365. Search for more templates online directly from the app to make the most of your presentation. Keep your listeners engaged with better animations and designs than ever before.
Microsoft Outlook: All your inboxes in one place. Access your work, business, and personal email from one single application. Request and confirm meeting that are automatically updated on your calendar. Chat with colleagues using the Instant messaging option powered by Skype. Stay organised with to-do lists and reminders. Scheduling of business activities have never been more central.
Microsoft OneNote: This is your electronic notepad that goes with you everywhere you go. Access notes or drawings from anywhere with the OneNote mobile app. This application
allows users to take notes and organise them with respect to subjects or projects. OneNote allows users to scribble on touch-enabled devices and add pictures to notes.
Microsoft Publisher: Publisher helps with your everyday publications like flyers, newsletters, stickers etc. with more than 300 templates to choose from locally and online within the app. Publisher is only available on computers, no mobile app.
Microsoft Access: Access supports newest features and security policies in the development and management of relational databases.
Microsoft Exchange: Microsoft Exchange Server is a mail server and calendaring server that increases users' productivity by offering business-class emails while protecting users' data.
Microsoft OneDrive: This is Microsoft's cloud storage application that synchronises all documents on the cloud to make them accessible remotely from internet-enabled devices.
Microsoft SharePoint: Microsoft SharePoint Online in Office 365 empowers people to share and work together, to inform and engage others across the company, to transform business processes, and to harness collective knowledge
Microsoft Skype: Organise and attend meetings from anywhere in the world with Microsoft skype. Share your screen and presentations within the app with over 200 people using a computer, smartphone phone, or tablet.
Microsoft Teams: Collaborate with specific colleagues working on specific projects as a separate unit. This allows teams to share documents and information accessible by only members of the team.
Microsoft Sway: create and share publications within minutes with several designs to pick from. Simply pick a design and insert the content to be shared. This app modifies the content and generates a link you can share with colleagues across an organisation.
Microsoft Forms: Get direct unaltered information delivered to you in real time. Microsoft forms is a web based application that allows management to organise surveys, tests, examinations etc by designing a form and sharing the link with the relevant people. Set restrictions such as multiple-choice questions, short text, and mandatory questions all with a few clicks. Management can communicate directly with colleagues or staff using Forms.
Microsoft Bookings: Request for a meeting room from the comfort of your desk or on the go with your internet-enabled devices.
Microsoft Power BI: Real-time data analysis with dashboards that provide insights that aid decision making. This can also be accessed from a mobile app.
Microsoft 365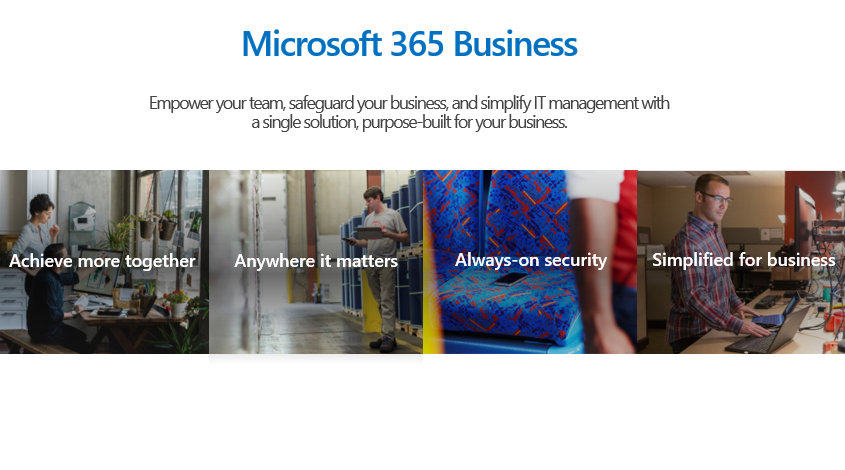 This is one solution, designed for your business to empower employees, safeguard your business data, and simplify your IT
Microsoft 365 Business enables you to achieve more together, anywhere it matters with always on security that you can trust.
In your course of business every day, how do your people work together or connect with customers? Is it some combination of meetings, phone calls and email? What about remote employees or people in the field?
[Use the answers to the above to have a conversation to illustrate the three points about collaboration]
It goes without saying that for almost every business, how you work together is critical. Not just among co-workers, but also with your customers. What makes Microsoft 365 Business so special is that these kinds of connections are easy enough for anyone to understand and use—from email, to chat, to online meetings.
Let me ask you another question. How do you work together on documents now? This can mean different things to different people, even within a small group. [pause and react]. With most of the people I talk to, it's emailing files back and forth—and that works, but it can lead to confusion, versioning issues, and of course, the downsides of email, like losing things to spam filters, or mistakenly sending attachments to the wrong people. We've all been there. With Microsoft 365 Business, all of this gets a lot better so you can create, share, and work on the same document at the same time with your co-workers.
I can't overstate the power of being able to work together without having to think about where people are or the practical considerations of how they are supposed to engage with shared documents. This ability to connect regardless of device and no matter where people are working, can make an immediate, positive impact on how your people do their jobs. And when you are doing this, it's reassuring to know that you are always accessing the right versions of your documents, regardless of device.
How often do you find yourself in a situation where you need to work without the internet? Maybe when you're traveling? Microsoft 365 Business provides online and offline access with automatic syncing of your work documents, giving you the flexibility to keep going even if you don't have internet access, confident that your work is preserved.
When you are on the go, you'll be able to stay connected and in sync. With Outlook, Skype, SharePoint, and OneDrive you can connect with people via email, instant messaging and online meetings anywhere you have an Internet connection. And, critically, switching among devices, accessing and editing files and connecting with your co-workers and customers—all of it is happening securely, keeping your information and your people protected.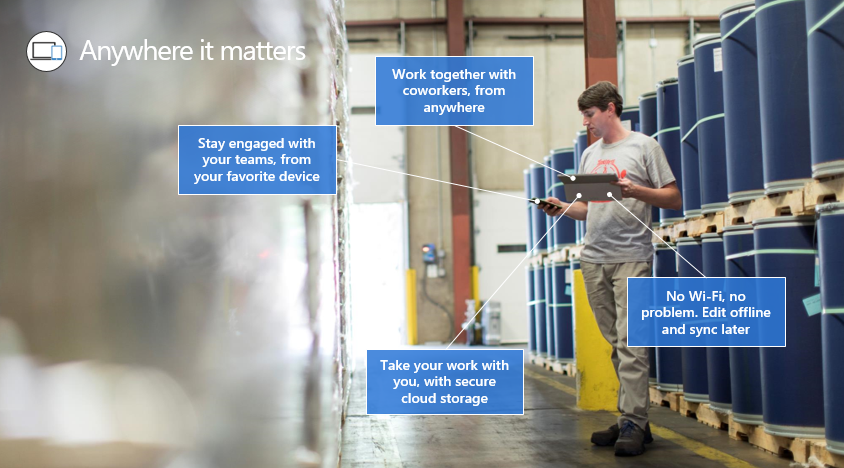 How often do you find yourself working from home or while you are traveling? Do you have employees working from home or in remote offices? Microsoft 365 Business is built with mobility in mind, to enable you and your people to work effectively wherever you are. Or, think about this: we've all been in the situation where we're away from the office and we need access to an Excel file or a presentation. That's an awful feeling and it can stop you in your tracks. The point is, whether you're sitting at your desk in your home office, or parked in your car, or working in an airport concourse, you want to have easy access to that document you were working on in your hotel room last night.
With Microsoft 365 Business, all your Office documents are kept up to date and accessible from anywhere—including your calendars, email, and contacts. You can create, edit, and share files anytime, from your PC, mobile phone, or tablet—with a consistent, easy experience.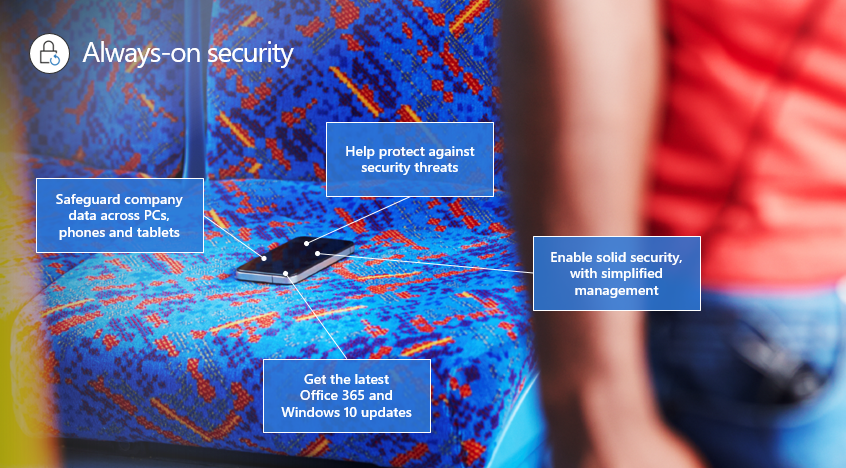 Microsoft 365 Business makes IT easier to manage for your company. Manage all your IT services in one place and minimize the work so you can focus on what matters: your business.
With Microsoft 365 Business, you don't have to deal with a complex IT process to get people set up. It simplifies this process, so your employees can get to work quickly.
Microsoft 365 Business offers streamlined device and application management. You will save time by easily configuring security features and settings in one place.
It also simplifies and secures access with a single login for all services and devices, making it easier for you to access your work, anywhere, on your devices.
With Microsoft 365 Business, we will be your trusted advisor and ensure you have the best solutions to give you peace of mind.