Microsoft Dynamics 365 enables organizations to turn their several relationships into revenue. Dynamics 365 enables companies to better understand customers needs, engage more effectively and win more deals. It can either be purchased as part of a plan or individually as an app.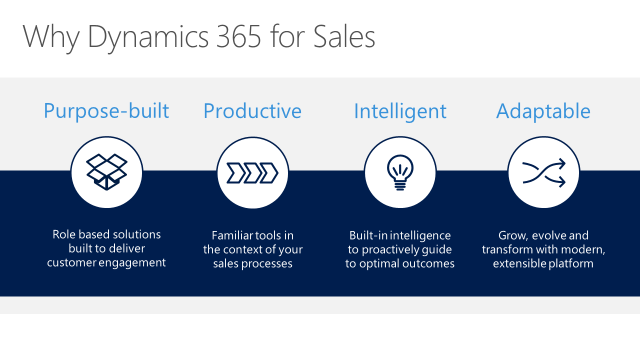 |- Get a Better View Into Your Customers And Opportunities
|- Sell Smarter With Embedded Intelligence
Know The Next Step
Strengthen relationships with personalized and relevant interactions based on contextual, embedded intelligence that helps sellers exceed the expectations of modern buyers.
Optimize email engagement
Elevate your email communications with embedded intelligence that lets you know when and how customers interact with your emails, so you can be more proactive and responsive in your communications.
Keep a Pulse On Social Trends 
Find out what buyers are really thinking with social intelligence that reveals social sentiment and identifies potential competitive threats.
|- Foster Relationships With Authentic And Personal Engagement 
Put buyers first with relationship selling
Build trust with insights centered on specific customer needs and easily manage relationships at scale with integration between LinkedIn and Dynamics 365 that unifies data and processes.
Engage buyers with social media
Find opportunities and nurture relationships with embedded intelligence that highlights relevant conversations to join and recommends content to share
Deliver personalized content
Get suggestions for relevant content based on what you're working on and who you're working with. Quickly create personalized sales documents with familiar Office 365 tools that enable simultaneous collaboration and editing.